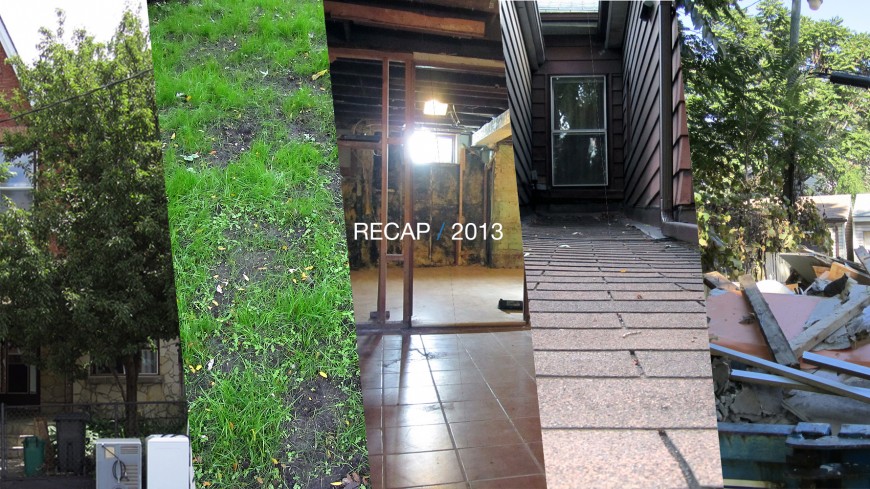 2014 is just beginning so we thought it would be a good time to recap what we have completed so far.
Some of these projects have already appeared on the blog in detail and others you'll see in more detail in the coming months.
Basement Demo Part 1 Part 2 (this included removing essentially EVERYTHING from the basement including a full kitchen and bathroom)
New furnace (and basement ductwork)
New tankless water heater
New washer/dryer
New back fence (including a double gate)
Replace toilet in main floor bathroom
Remove upstairs kitchen and multiple layers of flooring
Leveling pantry floor and installing new support joists
The one thing we haven't done yet this year but are really hoping to get to as soon as possible is getting started on the electrical work. We want to install a new panel and get working on rewiring the basement now that all the walls and ceiling are opened up.
In this phase of our reno there is very little "visible" work (no picking paint colours, no new furniture/fixtures etc) so it is easy to get discouraged or feel like we aren't making progress. Throughout our time in the house so far we've had a few "what were we thinking taking on this much work" moments, or days when we felt like we haven't done very much work at all, but when we see it listed like this it is a good reminder that we have actually accomplished quite a lot! We are going to try and take a step back every three or four months to do this kind of recap to remind ourselves just how much work we are doing (on top of both working full-time jobs).
Budget-wise, we have managed to stay pretty much on track except for the surprise of repairing the leaking roof and having to buy an extra dumpster bin during the basement demolition. These two things pushed us about $1000 over what we had expected to spend in the first 6 months of owning the house.
We are winding down major projects for the winter and will focus on small projects, more planning, (and of course saving!) to start back up on bigger things in the spring.