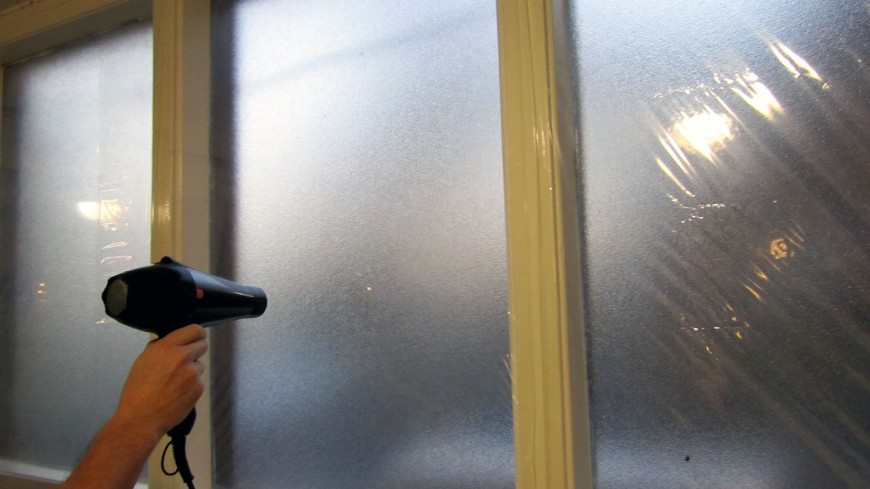 "Winter is coming" as the saying goes from one of our favourite TV shows (Game of Thrones), and it is COLD out. The windows in the house are all very old and not very efficient at keeping the heat in. This is especially true of the 4 windows in the extension part of the house that are just a single pane of glass. We don't have curtains over these windows because they are clouded glass privacy panes and do let in a large amount of light through the back of the house.
Since replacing all the windows is on the list but not in the budget until next year (okay, realistically the year after), we needed to do something to try and keep all the warm air from our new furnace inside the house. Something we had heard of was sealing the windows with insulating plastic. It sounded like a cheap and easy solution… cue a trip to Home Depot.
We purchased the Comfort Plus Premium Window Kit figuring that for $15 it was definitely worth trying out. They claim it has the same effect as adding another window.
The kit comes with the plastic, the double-sided adhesive and a cutting tool. All you need to supply is a hair dryer. Installing the plastic could not have been easier:
Stick double-sided tape all the way around the frame.
Peel the top side of the tape off and let it sit for 15 minutes (the instructions don't really explain why, maybe to let it acclimate to your room temperature?).
Cut the plastic to size of the window with a bit of extra all around.
Stick onto window as tight as possible.
Use hair dryer on hottest setting to heat plastic going back and forth across the window until there are no more wrinkles in the plastic.
Trim the excess plastic.
And that's it! Really it was so easy.
While the plastic over the glass is very clear and barely visible, around the frame is where you can still see it. It is not completely invisible but as a cheap method to keep in the heat we are really pleased with the outcome.
We are planning to cover a few more windows using this plastic and hopefully that will help keep us slightly warmer over the winter months.