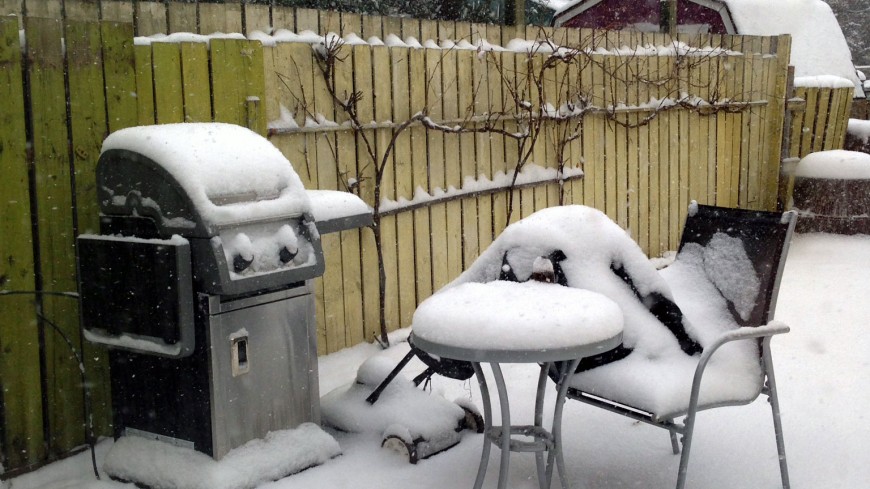 After a L-O-N-G and polar vortex filled winter it appears Spring has finally decided to make an appearance here in Toronto (albeit a late one).
The snow piles are finally melting so we can see that the yard and outside of the house looks a bit dingy. Here is a list of our Top 5 spring cleaning tips to get our place ready for spring.
Clear out the eavestrough – Nobody likes doing this (nobody normal anyways) but if you want to prevent water damage its a must do to clear out any leaves, sticks and debris that accumulated since the fall. SAFETY FIRST! So if you don't have or can't borrow a proper/sturdy ladder there are lots of companies that you can pay to do this job for you. Here is a good overview on how to do this job yourself.
Rake the lawn – Our poor little patch of grass spent all winter and the first part of spring suffocating under snow. Turns out there were some leaves on top too which, if left there, will just rot and keep the lawn from breathing and growing back nice and full. Our city's yard waste collection service started last week so that's our cue to get to work raking up leaves and other debris on the lawn and in the flowerbeds.
Clean the windows – With more hours of daylight the dirt on the windows is that much more visible (yuck). Give the inside and outside a really good wipe down and you'll enjoy the sunshine coming in that much more.
Power wash the patio/house siding – We did this once last summer after we moved in (Power-washing the patio) (it clearly had never been done before) so we want to keep doing it on an annual basis to make sure the patio and siding stays clean so we can enjoy being outside.
Clean the BBQ – This has nothing to do with the appearance or maintenance of the house but more to do with our meal time enjoyment. Since we no longer have waist high snow blocking our path to the BBQ it is time to reacquaint ourselves with its delicious meals. Use a wire brush and degreaser to start the outdoor season with a fresh grill to cook on.
We know there are a lot more than 5 chores to do (e.g. putting away winter clothes, clearing out clutter from closets and storage areas etc.), so this "Top 5" is a list of the main ones that we felt needed to get done ASAP to start Spring off on the right foot.
What are some of the major (or minor) Spring cleaning chores you do?