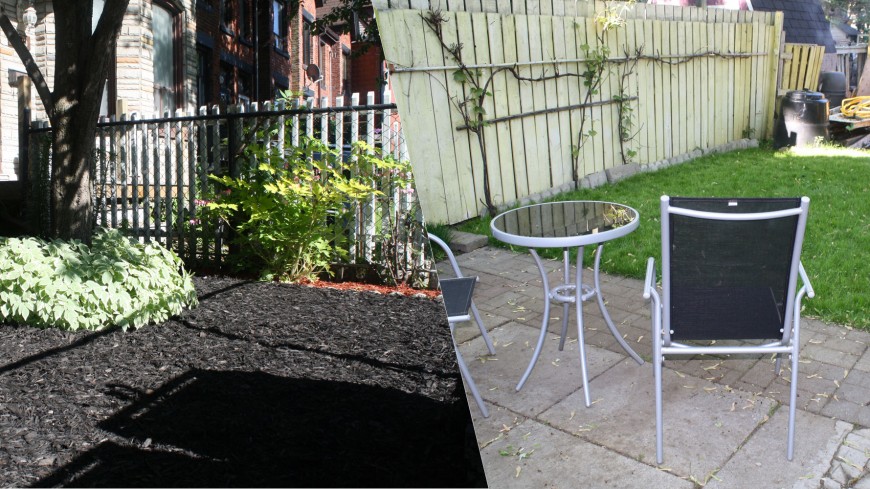 Sunshine and warmer temperatures means we (and everybody else) want to spend more time outside. All our yard clean up so far this year has been in the backyard so the front of our house was beginning to look a bit neglected. We wanted to spruce it up without breaking the bank. Luckily there were already plants growing back (roses, bleeding hearts, some kind of daylily) so we didn't have to buy any. The previous owner had covered up any existing grass with a black mulch. We liked the look of this and the low maintenance aspect of not having grass to cut in the front so we decided to stick with it. Here is how we completed our yard makeover on a budget.
Process:
We originally bought 2 bags of Scotts Naturescapes Mulch in "Classic Black" a few weeks ago but waited to lay it down as the pear tree in our front yard was in the process of dropping all its white flowers. After cleaning up and trimming back the flower beds we used a bow rake to spread the mulch and then did the areas bordering the flower beds by hand. You can see in the picture the difference in colour between the mulch that was left from last year and the new stuff we were laying down. The colour of the new mulch is so much sharper and looks great contrasted with the green of the plants. 2 bags was definitely not enough as the instructions indicate the depth should be at least 2 inches. We went back to the store and grabbed 3 more bags. While we were there we noticed the "Sierra Red" coloured mulch and Gillian suggested we use that in the flower beds to give some contrast and additional colour. We grabbed a bag of the red to give it a try.
The finished product:
We are really happy with how this little yard project turned out and especially happy because it is a result we can see right away. For under $50 we fixed up the neglected looking front yard and can enjoy it the rest of the summer!
BACKYARD UPDATE:
In case you were wondering how our back yard lawn did after we reseeded it last fall check it out – SO bright and green! Full disclosure it did grow back patchy so this is actually how it looks after a second round of seeding this spring. We are still battling the weeds but the theory is the thicker the grass the less room the weeds have to grow. I think we can credit the success of growing this grass from seed to the diligent watering we gave the lawn after re-seeding it and the helpful few weeks of rainy spring weather.