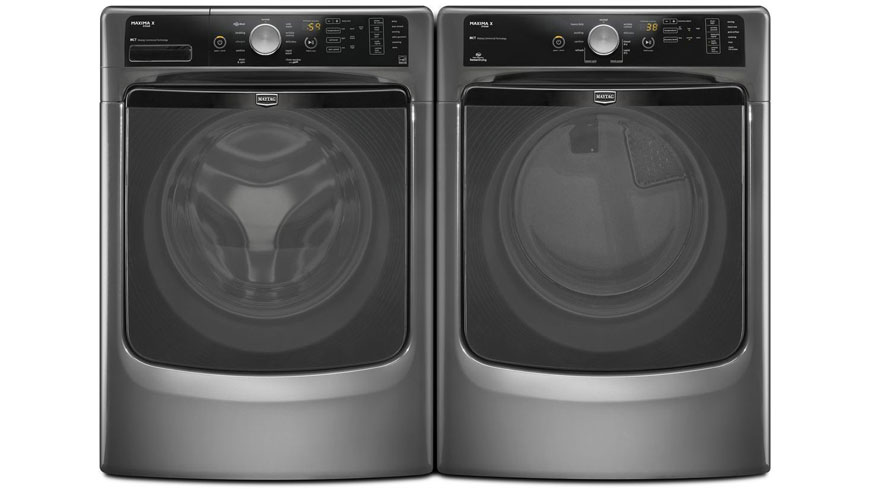 The first major appliances we replaced in the house were the washing machine and the dryer. We waited until now to do this review to give ourselves time to really use them.
Our criteria for the washer/dryer were:
Front-loading
Large enough capacity for bedding/towels etc.
Energy efficient
Gas dryer
Steam cycle option
Stainless steel drum
After a couple weeks of internet research and checking out appliances in store we ended up purchasing the Maytag Maxima X™ Front Load Washer with Cold Wash Cycle and the Maytag Maxima X™ Front Load Steam Washer with the PowerWash™Cycle from Sears. The pair was originally over our budget but with the sale price (and an additional price-matching discount to what The Brick was offering) we were able to come in under budget.
What we love about them:
Washer
Uses very little soap to get the clothes REALLY clean (great for sensitive skin)
Large capacity (4.7 Cu. Ft.)
Mostly quiet
Sanitize option for bedding/towels/stinky hockey gear
Dryer
So many cycle options!
HUGE capacity (7.4 Cu. Ft.)
VERY quiet
What we don't love:
Washer
Smaller capacity than the dryer
Highest speed spin cycle can sound a bit like a jet engine starting up
Lint etc. gets onto the rubber seal around the door, this is easy to clean off but annoying to have to do
Dryer
We have no complaints about this appliance
Overall we are really happy with the choice we made to purchase the Maytag Maxima washer and dryer, especially with the dryer. When we think back to our "need to have" criteria we realize that while the steam cycle function is nice to have, in 9 months of using the appliances we have not used it once. Really, not even once! (I can imagine though that one time we do use it will be totally worth all the hype…). A final thought is that if you do have gas hook up we highly recommend going with the gas dryer to save on electricity costs.
Disclaimer We purchased these appliances with our own money and did not receive any compensation for this review. This review is our own honest opinion of our experience using these products.