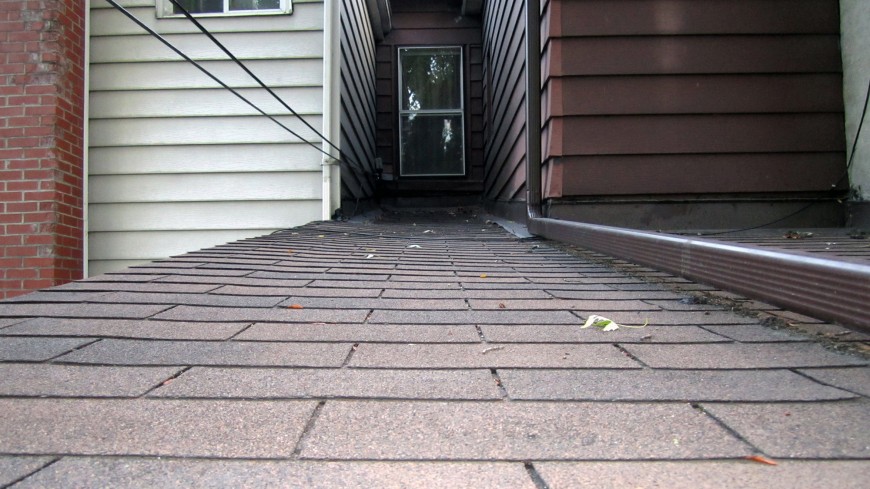 With all the rain that Toronto received this summer and fall it was not really so much of a surprise as an annoyance when we noticed water trickling down the side wall above the entrance to the basement (inside the house). This part of the house is an extension on the original structure so is only one story and the slope of the roof is nearly flat.
We can see from our upstairs windows into our neighbours eavestrough that is directly above this part of the roof and it was an actual garden growing in there. They clearly hadn't cleaned out their eavestroughs in years and consequently water is overflowing and pouring onto our roof (the joys of being attached to your neighbours).
Being hopeful that a fairly easy fix would be to clean out their eavestroughs and make some minor roof repairs we went on Homestars to look up a highly rated roof repair service. We narrowed it down to three based on their ratings and number of reviews and sent them a request for a quote. The company that responded the fastest was Mr. Roof Repair. They quoted a reasonable amount in comparison to the others and offered a guarantee of their work. We decided to go with them and booked.
We were given a window of 9am-12pm as when they would come. Unfortunately this is an area where they fell short, showing up at 12:30 pm without giving us a heads up that they were running late.
The guys that came to do the work were good to deal with and knowledgeable, taking Chris up on the roof with them to show him what their assessment and recommendations were. In the end what they ended up doing was cleaning out the eavestrough and patching a number of areas between the shingles where water had likely been pooling and soaking through. They worked very quickly and had it all done within an hour.
Another minor annoyance was that they forgot and left some of their tools behind. We called the main service number to let them know but it took a few days for them to come back and get the tools (or somebody walked by and stole them…).
The result of their assessment was both good news and bad… The good news was that the roof on the extension is still in good shape and should last a for quite a while longer. The bad news… there is 3 layers of shingles on the original house, which are not in good shape and need to be replaced. It is not in our budget to do this right away so we are going to put it off until spring and give ourselves the winter to save for it.
It has rained a number of times since the repairs were done and so far there has not been a re-occurrence of the leak. Aside from being late without giving us a heads up and leaving tools behind we are happy with the service and would recommend using Mr. Roof Repair.